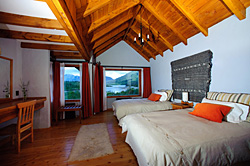 Rebuilt in 2004 and uniquely designed, every one of our 9 guest rooms at Rio Manso Lodge face northwest with spectacular views of Lago Hess and the Andes Mountains. Just 15 miles away towers majestic Monte Tronador located on the border with Chile. If the weather is clear, the mountain looks close enough to touch.  Each of our rooms is comfortably appointed with either King Size or two Full Size beds and private bath. Some are equipped with a Jacuzzi as well.  Many guests sleep with their windows open to let in the crisp, cool mountain air.The lodge features a full wader room for tackle and waders, a fly tying area, a small, but well-equipped bar, and a spacious sitting area in front of our river stone fireplace.  Many nights it is cool enough to enjoy the warmth and comfort of a roaring fire. We normally serve cocktails and hors d'oeuvres there each evening.  The lodge has a sauna available to drive out the chill and loosen those stiff casting muscles.
Meals are served in the main dining room and are the fitting conclusion to a day on the water or exploring the wonders of Patagonia. Our professionally trained chef will concoct delightful cuisine that reflects an international flavor made with the freshest of ingredients.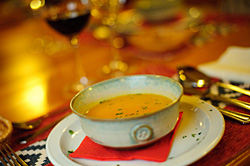 Gone are the days when traveling to Argentina meant eating meat at every meal.  You're as likely to have pasta, fish or chicken as beef at our table.  We serve a wide variety of dishes that reflect both the cultural diversity of the area and the worldly influence of today's culinary landscape.  All our meals are served with complimentary Argentine wines.  Should you have any special dietary needs, we are more than happy to develop a special menu for you.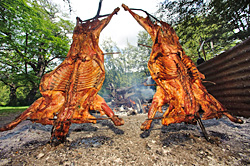 However, we have not forgotten our roots and the local custom of the Argentine asado. One of the highlights of the week, this traditional Argentine grill features such items as beef, lamb and pork. An Argentine asado typically has a sequence of meats presented by the asador (the cook). First are the chorizos (sausages), morcillas (black pudding) chinchulines (chitterlings), mollejas (sweetbread) and other organs, often accompanied by provoleta, a grilled cheese dish. Then costillas or asado de tira (ribs) are served. Next comes vacío or matambre (flank steak), and possibly chicken and chivito (baby goat). An asado also includes bread, a simple mixed salad of, for instance, lettuce, tomato and onions, or it could be accompanied with verdurajo (grilled vegetables), a mixture made of potatoes, corn, onion and eggplant cooked on the parrilla and seasoned with olive oil and salt.  No matter what you try, it's all part of the adventure at Rio Manso Lodge.