For those guests looking for other things to do besides fishing, Nahuel Huapi National Park and the surrounding area offer many interesting diversions. The area around the lodge is a paradise for hikers, horseback riders and birders. Most of our outings are led by expert guides. See the activities map for more information.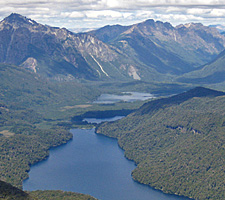 There are many options for hiking the trails near the lodge to explore the lush, unspoiled forest. There are a number of lakes within walking distance that offer peaceful destinations and beautiful views.  Just a short walk from the lodge is located the Cascada Los Alerces, the first falls on the Rio Manso below the lodge.  If you're observant, you may spot the rare torrent duck, a species that inhabits the rushing waters of the river and swims for its dinner in the fastest currents.  Should you choose to exert yourself more, you can climb the surrounding mountains which offer a breathtaking view of the lodge, river valley and nearby lakes.
Within an hour's drive of the lodge, guests can visit the glaciers of majestic Mont Tronador and enjoy the famous Black Glacier and the Devil's Throat, a waterfall that is the beginnings of the Manso River. Longer treks are also available.
For those who enjoy exploring on horseback, we can take you to remote locations that few people ever get to see. Roaring waterfalls and picturesque forests are all a part of our neighborhood. If you're extremely lucky, you may see a wild boar or the extremely rare puma. Our expertly trained guides will be with you every step of the way.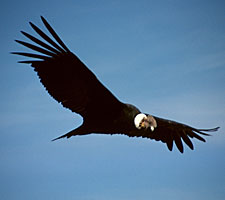 Birders have the opportunity to view one of the greatest birds on earth, the Andean Condor. With a wing span of 10 feet, the condor is the largest land bird in the western hemisphere. We see condors nearly every day at Rio Manso and the surrounding area.  It is not unusual to see several of these majestic birds at a time. If you've never been birding, this is a great time to learn.  Accompanied by noted Andean condor expert Lorenzo Sympson, you may see dozens of species from the tiny hummingbird to the Magellic woodpecker to the rare torrent duck.
If golf is your game, we have a beautiful course not far away on the outskirts of Bariloche, Arelauquen Golf & Country Club.  This brand new 18-hole course looks out on the snow-capped Andes in the distance.
Nearby Bariloche is a year round resort town that features shops selling just about everything from leather goods to souvenirs to chocolates. Bariloche is famous for its chocolate, which can be traced back to early Swiss settlers. While there are dozens of good shops selling this brown gold, few would disagree that Mamuschka produces the best. It's a must for chocoholics. Whether you want to plan a trip into town, or just stop by on the way to the airport, Bariloche is worth the visit.