Rivers change throughout the fishing season, and the Rio Manso watershed is no exception.  When you consider all the different water types and couple that with a host of hatches throughout the year, there is more than enough to choose from for almost any angler.  I know I have been fishing these waters since the lodge opened in 2004, and even now, after more than 20 trips to this area, I find new and exciting places to fish and explore.  Some are no more than a few minutes from the lodge.
When anglers inquire about fishing in Patagonia, it's easy to query them about their favorite ways to fish, favorite tackle and other hints as to where they will be most happy.  Do you like to dry fly fish?  Who doesn't?  But what kind of dry fly fishing do you prefer – match-the-hatch spring creeks or rushing pocket water with big attractors.  How about specific techniques, like swimming a mouse, giant size 6 dragonflies or a spinner fall.
Here's what I like to do when I visit Patagonia, and I should say much depends on my mood.  Yes, there are days and times of the year when I am willing to work all day for that one big fish.  But there are other times when I prefer the more frequent reward of fishing dragon flies on top, and still others when the steady slurp of a feeding fish requires a precise presentation.  I suspect that many of you are a lot like me.  I fish and live near the Battenkill River in Vermont and the fishing isn't too easy.  But I usually have a choice during my favorite trico hatch: find and stalk a big brown, or settle down over a school of smaller brook trout and have some steady action.  Yeah, it's all about mood with a little patience thrown in.
At Rio Manso Lodge, the choices are different, but equally important: do I want a challenge? A hike in? Float the river? Work a shoreline?  You see what a tough life I have.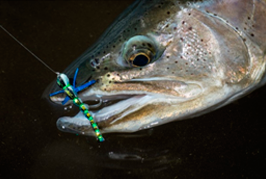 December Dragonflies – Without a doubt fishing the dragonfly hatch is probably some of the most exciting trout fishing in the world.  The biggest fish, aggressive strikes, and perhaps best of
all, much of it is sight casting.  Casting back into the thick reed beds and watching trout inhale a fly, sometimes in just inches of water, will blow your mind.  The best fishing is in the lakes near the lodge, and mimics flats fishing for bonefish or permit.  You cast big size 6 dry flies from the bow of a Carolina skiff into shoreline structure. Lean on those fish hard or they will take you around a log or through the weeds.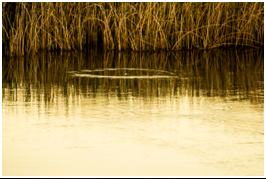 Anytime Channels – This section of the Manso fishes like a spring creek with little visible structure.  The game here is to look for rising fish, then make a good presentation.  Sometimes all you need is a Parachute Adams.  At other times of the year you might be casting a dragonfly, but at others a #18 spinner.  Good mayfly hatches in December and January make you want to stay on the water until dark, even when you know there's a pisco sour waiting for you at the lodge, and you can practically smell the asado.  In the fall (March/April), heavy caddis hatches reward the use of emergers and Goddard caddis twitched on top.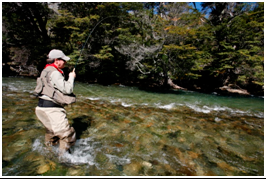 April Streamers – Fall always means stripping streamers almost everywhere, but there is some dry fly fishing mixed in, and it provides a nice respite for your arm after throwing heavy lines all day.  The goal here are the big browns and brook trout getting ready for the winter spawning season.  Right up until the end of April the fishing just gets better and better as the water temperatures drop.  And like a lot of North American rivers, there is an "October" caddis hatch – it just happens in April.
November/December Lakes – Lakes? Really?  I'm sure some of you are saying that, but don't be too hasty to skip over this section.  When the fish aren't focused on the surface, they have a couple of key food sources in the lakes.  Puyen, a small baitfish that is a perfect food source, and the abundant dragonflies, which means there are nymphs present all year long.  I love hitting the shoreline structure with big dry flies where three and four hundred-year-old lengas or nires trees have toppled into lake and big trout search for food.  Each lake has its own character, and it's often a question of which species you want to target.  One of my favorite spots is close to the lodge, but usually overlooked by guests.  That's OK with me.  I find a couple hours can produce half a dozen 20 inch plus browns if I can bring myself to focus and not get distracted by the mountain views.  Most anglers have never fished lakes, and especially lakes like these.  I was the same before I visited, but it didn't take me long to see the error of my ways.
Hike-In To Fish – With all the water we have within spitting distance of the lodge, you almost wonder why anyone would go to the extra effort of hiking in to find new water.  Well, it's always fun to explore new places, and I guess you never know when you'll find that true nirvana where the trout (as John Gierach would say) are all as long as your leg.  This is Roberto's favorite way to fish.  He's the owner of Rio Manso and has been fishing this area with his grandparents since he was a small boy.  He likes to hike somewhere with no humans and lots of fish.  We have a few spots like that, and one that produced a 6-pound brook trout last season.  I like that kind of spot myself.  As long as I'm back in time for that pisco sour.  Salud!
I realize now there is so much more to write about – small hike-in creeks, spring creeks, special sections of the river, lakes – it's too much for this column. But I promise to write more in the future, and I promise to tempt you with all the wonders of Patagonia.