Pick Your Tonic – Rio Manso Rainbows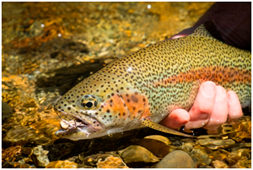 One of the beauties of fishing in the waters surrounding Rio Manso Lodge is the opportunity to pick your fishing.  You have the chance to decide not only when to visit the lodge during the November through April season, but also which species you would like to chase.  The reason this is so, is the variety of water that makes up this watershed, from the main lakes of Roca, Fonck, Hess and Moscos, to the different character of the river as it courses its way to the Pacific Ocean, far to the west.  Only a few anglers come with such an intense focus on one species, but there are a few guests who seek that big brown, or gorgeous colored brook trout.  For those anglers, we oblige them with a trip to the most likely waters.
But one species always seems to come in last – arco iris, the rainbow.  Sounds so much prettier in Spanish, doesn't it?  Rainbows are found throughout the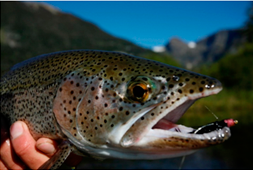 drainage and as one of the most adaptable of all trout, are the most widely distributed around the world.  Despite this propensity for survival, they are definitely outnumbered in some of the Manso waters, or so it would seem.  Lago Fonck is famous for its brook trout, and there's the occasional brown that may run up to 7 or 8 pounds, but it is less respected for the feisty rainbows that swim in its waters and average over 20 inches.  Yet these fish are often the strongest fighters and frequently take to the air, even launching like ballistic missiles to grab adult dragonflies in December and January.

Roca seems to hold fewer trout than the other lakes, but they are correspondingly larger on average.  It was here that one of our largest rainbows was caught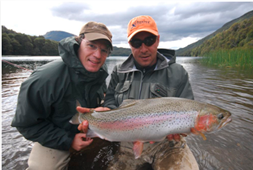 by owner Roberto Pandolfi on the last day of the season a few years ago, and measured 30 inches in length, and probably weighed over ten pounds. Fish like that are not the norm, but it's not at all unusual to find plenty of 20-24 inch rainbows.
Much of the Rio Manso appears to function as a nursery for young and smaller fish, and it's here where the rainbows dominate the faster water.  While floating is a productive way to get around,
and you can cover a lot of water.  Stopping to wade offers the opportunity to thoroughly cover every piece of promising riffle and pool.  Wading Beat 2 last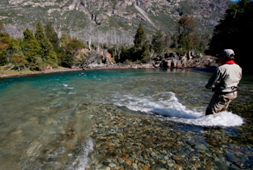 summer, which is made up of riffle run combinations with a few big pools thrown in for good measure, I caught over 60 rainbows one day working small streamers around structure.
There is one place at Rio Manso where rainbows are the undisputed king, although technically not at the lodge.  It's a small lake, with just rainbows to cruise
its shorelines, weed beds and reed lines.  A place where 2x breaks like 7x and rainbows so strong you'd swear they were on steroids. This private lake is a half day away from the lodge,accommodations are kindly described as "rustic", and it requires a couple days to visit and fish, but this lake iswell worth the extra effort.  Some of you have been there and witnessed of what I speak, so you know it's true.  I'll expose the whole story in a future blog.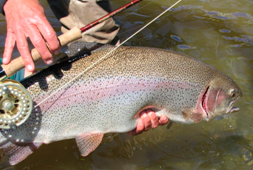 Rainbows readily rise to dry flies, and compete with the browns and brook trout for the best feeding stations in the Channels.  Evenings there are filled with rising trout nearly every day of the season, and not enough guests take full advantage of this.  It's understandable, after catching fish all day long, and relaxing by the fire with a cocktail, you could be forgiven for passing on a few evening risers.  But if you wander upstairs to your room and just by chance
happen to glance out the window to Mount Tronador, you might just see out of the corner of your eye, a few rings on the glassy silver of the Channels.  Some of our largest rainbows live just there.   And I think you'd be hard pressed to ignore arco iris' invitation.