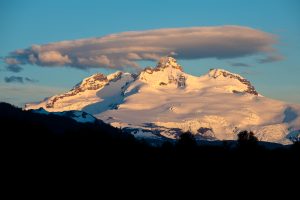 Welcome to the first of a series of blogs about Rio Manso Lodge and Patagonia.  As you might have guessed, winter is long, dark and dreary in the southern hemisphere, and we feel the same longing for fishing season that anglers everywhere feel when they can't wet a line.  So, when we can't actually go fishing, or hiking or birding, or even go to the lodge because it's closed up for the winter, the next best thing is to talk about those things, and more specifically, to write about them.
I hope to cover a host of topics during the next ten weeks before the season opens, and to add some color to the memories many of you have of your time there.  For those who have not been to Patagonia, Rio Manso Lodge and Nahuel Huapi National Park, I'll try to paint a picture that helps you see why we love this place so much, and since there's always an ulterior motive, encourage you to come see us.
Some of my writing will delve into the mysteries of fly fishing and the more technical aspects of the sport.  I can't help it – I'm a fly fisherman after all and we are a fly fishing lodge!  But I also appreciate all that makes Patagonia and Argentina such special corners of the planet.  I'll try to broaden my writing to include more than just piscatorial pursuits.
So add us to your list of interesting places to go and visit on the web, and save a corner of your mind for floating virtually on the waters around the lodge or wandering the trails of the Rio Manso forests.  They are spectacular environs with an almost mystical attraction for the human soul.