The Big Brook Trout of Rio Manso
If you grew up in the eastern part of the United States, you probably have a special attraction for the colorful char that swims in those waters, salvelinus fontinalis, the brook trout. These incredible jewels inhabit just a fraction of their original range, having been pushed aside by the introduction of brown trout from Europe, and the now ubiquitous rainbow. Yet they still dwell in the upper reaches of many of the rivers they once inhabited.And as is the habit of man, they have been introduced the world over. I have caught them in Quebec, Colorado, Spain andPatagonia – especially Patagonia.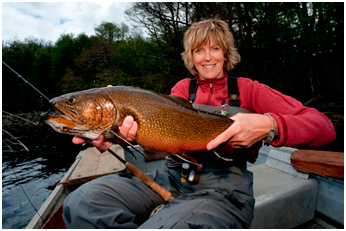 In the lakes surrounding Rio Manso Lodge, a unique situation has arisen. Brown, rainbow and brook trout coexist in several of the lakes and in the Rio Manso itself. Each seems to have found a
niche in the environment where they not only survive, but thrive. Some waters seem better suited for certain species, although it's not exactly clear why this would be so.
For example, Lagos Fonck, Roca and Hess all hold large brook trout. Fonck has been well -known for its brook trout for many years, and limited access to the lake has resulted in outstanding fishing. With its crystal clear water, you will often see trout chase a streamer or slide under your dry fly. Although brook trout dominate the scene, there are almost as many rainbows in the lake, and even a few browns. But the fontinalis rules. These char average 16 – 20 inches, and it is a rare day to catch one much smaller. Which at least partially begs the question of just where are the smaller brook trout? Although there is plenty of cover along the shoreline in the form of weed and reed beds, as well as more in the form of trees and limbs that have fallen into the lake, it is unusual to see these smaller fish.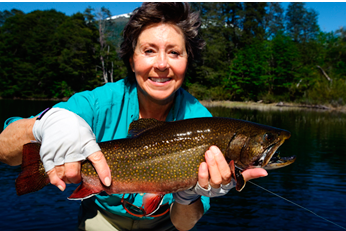 Other lakes hold brook trout as big or bigger than those of Fonck. Roca, although somewhat shallower in depth, often produces 20 inch plus brook trout. And right in front of the lodge, Lago Hess and the Channels of the Manso give up their fair share as well. There's even a secret location where we caught a 6-pound brook trout last season.
One of the favorite experiences for any angler at the lodge is to fish Lago Los Cesares. This lake holds just brook and brown trout, and the brooks are big and strong. Located high in a valley not far from the lodge, Cesares requires a bit of horsemanship to access; it's a two hour ride up into the valley. But the trip is well worth it, and the views spectacular toward the northeast and Lago Mascardi.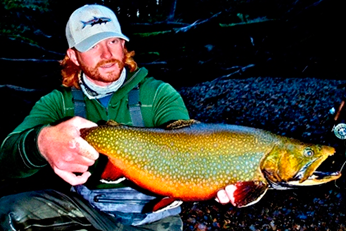 Ah yes, for many anglers, fontinalis can be a holy grail in Patagonia, just as it is in other parts of the world.